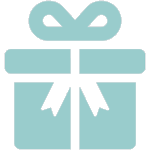 Turn birthday wishes into miracles for Ruth's House! Here are some ideas:
Collect Donations
Tell family and friends how much it would mean to you if they would contribute to Ruth's House in honor of your birthday.
Invite them to donate directly online.
Have a basket to collect checks made out to Ruth's House of Hope, Inc., at your birthday event and then send those to us.
Ask guests to bring items from our current Needs List to your birthday event; then deliver the donated supplies to Ruth's House.
Online Birthday Fundraiser
Here's how to set up an online fundraiser you can share via email or social media:
Visit Crowdrise's Birthday Fundraising page.
Click on the orange Start a Birthday Fundraiser button.
Click the orange Raise Money for Charity button.
Name your fundraiser and set a goal. Write something about why you are donating your birthday for Ruth's House. Click Submit.
Add a photo – of you, of birthday cake, of Ruth's House – or skip this step.
Enter "Ruth's House of Hope" (Faribault, Minnesota) and select it as your charity.
Sign in with Facebook or create your CrowdRise account.
Now you can go to your Campaign Dashboard. You can use it to get the word out, post updates, see your donations, thank donors and more!
Donating your special day is an amazing way to use your birthday for good! Thank you for your support of Ruth's House!