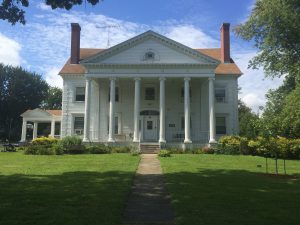 We believe everyone deserves safe, permanent housing, so we offer:
Emergency/transitional shelter for women and families in the Rice County area.
Transitional Shelter (On-campus)
Our transitional shelter in Faribault has up to 9 family units available on campus at one time. The program is designed to create space and time for healing for 6 months up to 2 years, with extensions possible under a case manager's discretion.
Basic Needs Are Met
Food and basic necessities such as clothing, household items, diapers and personal care supplies are provided.
Residents share in the cooking and other household tasks and are encouraged to make healthy choices and establish healthy boundaries.
Supportive, Goal-setting Environment
Families have access to 24-hour support from trained staff and volunteers.
Residents meet weekly with a case manager to assess needs,  set goals for self-sufficiency, address barriers, celebrate successes and provide crisis intervention.
Weekly life skills education classes, such as parenting, stress management, self-care and healthy communication are offered at the shelter, with childcare provided.
Sensory Area
The sensory area, new in 2016, is a dedicated space for the children and mothers at Ruth's House to learn and grow together. The sensory area's activities and games:
Promote healthy development and life skills for children and their parents.
Encourage family bonding.
Increase children's chance of educational success and future stability.

Space includes a slide, and sensory toys
Apply for Housing
---
Employment and Education
Ruth's House strives to support individuals in achieving economic self-sufficiency through learning and skill development. Residents in both of our supportive housing programs are encouraged to seek employment and/or education.
We have a strong tradition of residents earning GED certificates, succeeding in college and vocational courses, and achieving gainful employment during their time at Ruth's House.