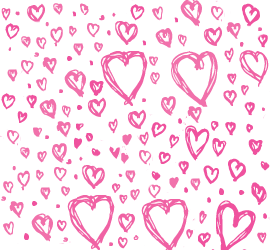 2017 Gala Report
The 14th Annual Ruth's House Hearts Gala Fundraiser was held at 6 p.m. Saturday evening, February 11, 2017, at the American Legion in Faribault (112 NE 5th Street). Once again our Decorations Committee transformed the space with our signature colors of red, white, black and silver.
The Hearts Gala was a success! The preliminary amount raised was $87,500! This was a record year all around. Thank you from the bottom of our hearts to everyone who came to show their support for Ruth's House. Your support and donation means that we can continue to provide safe shelter to women and children in need.
Thank you, thank you, thank you!
Tag yourself in photos on our facebook page. All photos by Jordyn Swanson.
Corporate Table Sponsors
A special thank you to this year's Corporate Table Sponsors. Your sponsorship helped to make this event possible!
A & J Storage
Boldt Funeral Home
Doug & Kathy Knutson
Harry Brown's
KGP Logistics
Multek
Charlie & Gail Sheridan
Farm Bureau Insurance
Herb & Ruth Hickey
Lynn & Mike Pohlman
The Noon Exchange Club
Rick & Joyce Elsen
State Bank of Faribault
Donahue's Greenhouse
Faribault Daily News
Faribault Tire & Auto
Paul & Sandy Varley
Reliance Bank
Rent-n-Save
Rick & Joyce Elsen
State Bank of Faribault
Donahue's Greenhouse
Faribault Daily News
Faribault Tire & Auto
Paul & Sandy Varley
Reliance Bank
Rent-n-Save
Raise the Roof for Ruth's House!
This year we are "raising the roof" for Ruth's House. We have documented nearly $100,000 in needed shelter repairs. This sounds like a huge amount (and it is), but if you watch HGTV you know that $100,000 often covers only a kitchen with granite counters and a master bedroom suite with soaking tub and twin sinks in a house for a small family with a dog.
Ruth's House withstands the wear and tear of up to 27 people each day plus the added challenge of upkeep on a home built over 100 years ago. Now, doesn't $100,000 sound like a bargain to replace the roof, repair the ceilings, install new carpet, update the sprinkler system and redo the concrete steps?
View our video that tours the house and shows the areas in need of repair.
Watch Video
Silent and Live Auction Items
Through the generosity of our auction donors, our silent and live auction bidders had the opportunity to not only win something wonderful for themselves but at the same time make a significant donation to Ruth's House.
The evening began with our popular and competitive Dessert Auction of luscious cakes and other goodies from area bakeries as well as area bakers. Each year this is your opportunity to provide dessert for your table to share or to take home for your family to share. These quality and delicious desserts bring on friendly bidding wars as the auction draws to a close and is a major fundraising part of the Hearts Gala.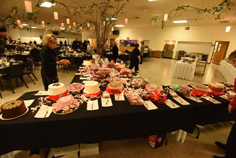 The popular Wine Wall returned with carefully wrapped bottles of wine marked only as red or white. IF your ticket is drawn you win that bottle of wine. YOU might have the winning ticket for 1 of 2 $50 bottles of wine.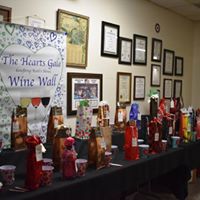 Many thanks to our tireless Gala Committee. We couldn't do it without you!
Ruth Hickey, Pat Johnson, Jennifer Sorg (front row)
Chuck Budde, Matt Gustafson, Katy Erickson, Joyce Elsen, Ruth Hildebrandt, Sherri Snow, Wendy Swanson, Suzzanne Fox, Jeanne Ullian, Kari Boldt, Amy Day (back row)
Lynn Pohlman, Kathy Tonolli, Desiree Caballero (not pictured)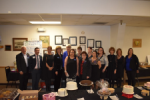 Hearts Gala 2017 Printed Materials