16th Annual Ruth's House HEARTS GALA
The 16th Annual Ruth's House Hearts Gala Fundraiser was held Saturday, February 9, 2019, at the American Legion in Faribault with over 300 people in attendance.
Thanks to our GREAT COMMUNITY of SUPPORTERS
We had an amazing turn out for the Annual Hearts Gala for Ruth's House. Over 300 people attended, enjoyed a nice dinner, and raised money for the shelter in various ways; such as the dessert, silent and live auctions, as well as the wine wall.
A former Ruth's House resident spoke from her heart about how the support she received at Ruth's House helped her transform her and her child's life into all that she is today. She has a good job and even her own home. Her resiliency is amazing. With all your support, Ruth's House is changing lives! Thank you!
It was a party.
It was a great outpouring of support for Ruth's House.
It took less than a minute of Fund-a-Need bidding to raise the $15,000 matching funds needed to secure our HUD Grant worth $185,000.  It will take a few weeks to tally all of the generous contributions received throughout the evening–from the Silent Auction, Live Auction, Dessert Auction, Wine Wall Raffle, and Fund-a-Need for 2019 Capitol Projects. Our sincere thanks to everyone in the community who supported this event and who support Ruth's House throughout the year.
Below is a link to the Senator Amy Klobuchar video we tried to show at the Gala.
Fund-a-Need: Fixer Upper – Ruth's House Edition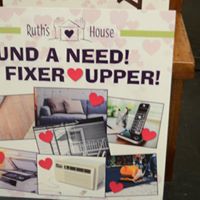 The Hearts Gala was a success! We raised ovr $90,000!
This was another record year in terms of attendance and funds raised. Thank you from the bottom of our hearts to everyone who came to show their support for Ruth's House. Your support and donations mean that we can continue to provide safe shelter to women and children in need.
Thank you, thank you, thank you!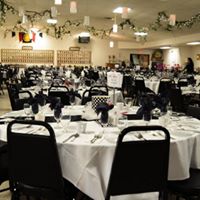 Decorations
It's the HEARTS GALA! Once again the Decorating Committee transformed the American Legion in Faribault into "Party Central" focusing on the traditional Valentine's Day colors of red, white, and black PLUS "Glam and Glitter." Attendees dressed in their favorite, comfortable party clothes sat with friends at the tables seating 8-10 people.
The Dessert Auction
The Dessert Auction is a signature event at the Ruth's House Gala. This artful display of tempting cakes, cookies, pies, and other sweets from local bakeries, as well as local home bakers, kicked off the evening's activities. As the auction drew to a close the friendly bidding wars heated up until the lucky winners were declared. As is the custom, winners then shared their bounty with the rest of the people at their table. Since its inception the Dessert Auction has provided a significant portion of the monies raised during the Gala.
The Wine Wall
Four bottles of wine, each valued at $50+, were scattered among the bottles of red wine (red mylar wrapping) and white wine (silver mylar wrapping) displayed in the Wine Wall this year. Attendees carefully dropped their raffle tickets into the buckets matching the bottles they hoped to take home. With over thirty bottles in the display many attendees left with a bottle in hand.
Silent and Live Auction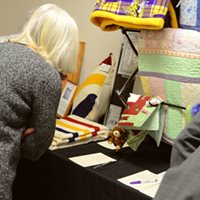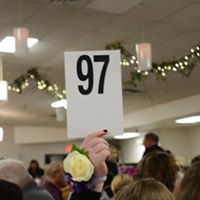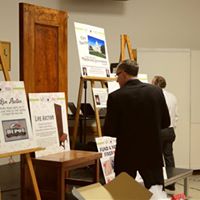 2019 Gala Committee
Many thanks to our tireless Gala Committee. We couldn't do it without you!
Committee Members:
Ruth Hildebrandt, Isabell O'Connor, Ruth Wirtzfeld, Christiana Adams, Brenna Gardner,  Cassandra Cook-Quarry, Casi Cross, Jeanne Ullian, Ruth Hickey, Sue Rodman, Joyce Elsen (Chair), Kari Boldt, Rose Leifeld-Brennan, Michelle Simpson, Suzzanne Fox, Chuck Budde, Matt Gustafson
Not Pictured: Elaine Anderstrom (photographer), Kathy Tonolli, Marcy Goss
Hearts Gala 2019 Printed Materials