15th Annual Ruth's House HEARTS GALA
The 15th Annual Ruth's House Hearts Gala Fundraiser was held Saturday, February 10, 2018, at the American Legion in Faribault with nearly 300 people in attendance.
Fund-a-Need
Opening Windows and Doors for Ruth's House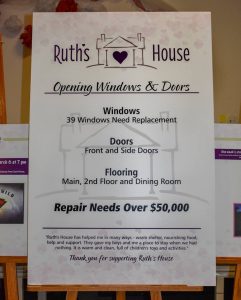 The Hearts Gala was a success! We raised $90,000!
This was a record year all around. Thank you from the bottom of our hearts to everyone who came to show their support for Ruth's House. Your support and donations mean that we can continue to provide safe shelter to women and children in need.
Thank you, thank you, thank you!
Thank You in Faribault Daily News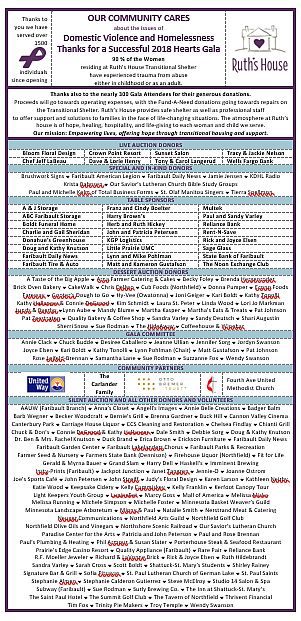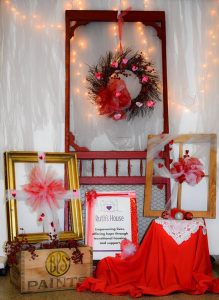 Decorations
It's the HEARTS GALA! Once again the Decorating Committee transformed the American Legion in Faribault into "Party Central" focusing on the traditional Valentine's Day colors of red, white, and black PLUS "Glam and Glitter." Attendees dressed in their favorite, comfortable party clothes sat with friends at the tables seating 8-10 people.
The Dessert Auction
The Dessert Auction is a signature event at the Ruth's House Gala. This artful display of tempting cakes, cookies, pies, and other sweets from local bakeries, as well as local home bakers, kicked off the evening's activities. As the auction drew to a close the friendly bidding wars heated up until the lucky winners were declared. As is the custom, winners then shared their bounty with the rest of the people at their table. Since its inception the Dessert Auction has provided a significant portion of the monies raised during the Gala.
The Wine Wall
Three bottles of wine, each valued at $50+, were scattered among the bottles of red wine (red mylar wrapping) and white wine (silver mylar wrapping) displayed in the Wine Wall this year. Attendees carefully dropped their raffle tickets into the buckets matching the bottles they hoped to take home. With over thirty bottles in the display many attendees left with a bottle in hand.
Silent and Live Auction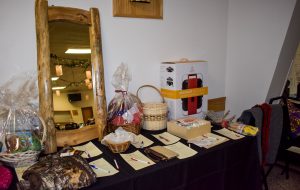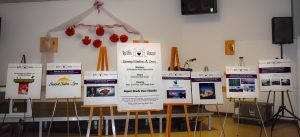 2018 Gala Committee
Many thanks to our tireless Gala Committee. We couldn't do it without you!
Committee Members: Lynn Pohlman (chair), Kari Boldt, Chuck Budde, Desiree Caballero, Annie Clack, Joyce Elsen, Suzzanne Fox,  Marcy Goss, Pat Johnson, Matt Gustafson, Samantha Lane, Rose Leifeld-Brennan, Sue Rodman, Jennifer Sorg, Jordyn Swanson, Wendy Swanson, Kathy Tonolli, Jeanne Ullian
Hearts Gala 2018 Printed Materials
Hearts Gala Invitation and Poster