15th Annual Ruth's House HEARTS GALA 2018
Theme: OPENING DOORS AND WINDOWS
Ruth's House withstands the wear and tear of up to 27 people each day plus the added challenge of upkeep on a home built over 100 years ago.
Repair Needs for Ruth's House

The 15th Annual Ruth's House Hearts Gala Fundraiser will be held Saturday, February 10, 2018, at the American Legion in Faribault. Invitations have been mailed. If you would like to attend and are not on our mailing list, or for some reason did not receive an invitation in the mail, PLEASE email us at: info.ruthshouse@gmail.com or use the convenient online form below to purchase your tickets with a credit card.
Gala Invitation and Gala Poster
Still Needed: Volunteers to help set up and tear down the afternoon and/or evening of the Gala. Email if you can help: info.ruthshouse@gmail.com
The Live and Silent Auction Items List is growing!
Tickets: $60/person; $600/Corporate Table seating ten
Doors open at 5:30pm
Meal choices: Prime Rib Dinner or Pasta Dinner
RSVP by January 31, 2018
Theme and Decorations
It's the HEARTS GALA! Once again the Decorating Committee will transform the American Legion in Faribault into "Party Central" focusing on the traditional Valentine's Day colors of red, white, and black PLUS "Glam and Glitter." Dress in your favorite comfortable party clothes and plan to sit with friends at the tables seating 8-10 people.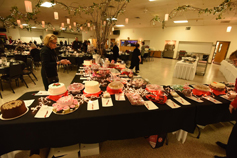 The Dessert Auction
The Dessert Auction is a signature event at the Ruth's House Gala. This popular and competitive auction kicks off the evening and is your opportunity to either provide dessert for your table or take a dessert home for your family. Once you see the artful display of tempting cakes, cookies, and other sweets from local bakeries as well as local home bakers, you will have to make the difficult decision of which ones not to bid on! As the auction draws to a close the friendly bidding wars heat up until the lucky winners are declared. Since its inception the Dessert Auction has provided a significant portion of the monies raised during the Gala.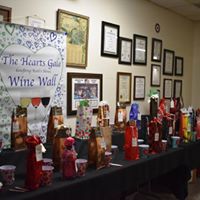 The Wine Wall
Three bottles of wine, each valued at $50+, will be scattered among the bottles of red wine (red mylar wrapping) and white wines (silver mylar wrapping) displayed in the Wine Wall this year. Purchase your tickets at the Wine Wall table, identify the bottles you hope to win, and then drop a ticket into the bucket  linked to  that bottle. With over thirty bottles to choose from your chances of winning are quite good.
2018 Gala Committee
The 2018 Gala Committee has been meeting for the past few months to plan another fun and successful Gala to raise funds for Ruth's House.
Committee Members: Lynn Pohlman (chair), Kari Boldt, Chuck Budde, Desiree Caballero, Annie Clack, Joyce Elsen, Suzzanne Fox,  Marcy Goss, Matt Gustafson, Ruth Hickey, Pat Johnson, Samantha Lane, Rose Leifeld-Brennan, Sue Rodman, Jennifer Sorg, Jordyn Swanson, Wendy Swanson, Kathy Tonolli, Jeanne Ullian.