SAVE THE DATE
18th Annual Ruth's House Hearts Gala
Saturday, February 13, 2021
American Legion in Faribault
"PILLARS OF SUPPORT"
17th Annual Ruth's House Hearts Gala
Saturday, February 8, 2020
American Legion in Faribault
2020 FUND A NEED
Priority 1: A STRUCTURALLY SAFE SHELTER $40,000
$20,000 Matching Grant Secured from Pillars of Our Community
The six pillars on the front portico support the third floor of this historic building where we have resident rooms as well as educational and social areas. Over the past 125 years these wood pillars have rotted from the inside out and must be repaired.
Priority 2: ENHANCED SECURITY AT THE SHELTER $50,000
Last year the Gala provided funds for installing secure, exterior doors. This year we have a few more important security items on our list that will enhance the existing  security of the building to protect the vulnerable women we shelter from domestic abuse.
Priority 3: SECURE OUR ANNUAL HUD GRANT $15,000
This is a WIN WIN WIN Raising $15,000 unlocks our annual $185,000 HUD Grant, which provides funding for our off-campus long-term Supportive Housing Program as well as funding staffing the shelter as a crisis management and resource center for these off-campus residents.
Funds received over and above these budgeted Fund a Need priorities will be used for the core support of Ruth's House of Hope.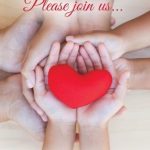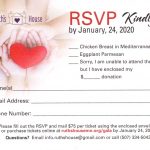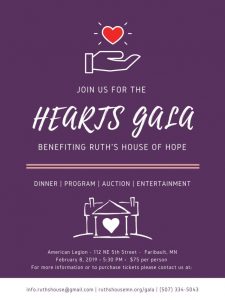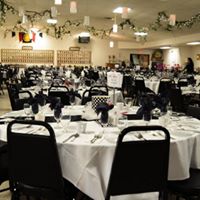 Theme and Decorations
Pillars of Support is the theme for the 2020 Gala. The American Legion venue will be transformed into a Mediterranean Experience complete with columns and greenery. Dress in your favorite comfortable party clothes or even better a toga, and plan to sit with friends at the tables seating 8-10 people. Even the menu will reflect the food of that region.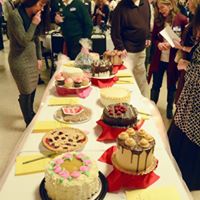 The Dessert Auction
The Dessert Auction is a signature event at the Ruth's House Gala. This artful display of tempting cakes, cookies, pies, and other sweets from local bakeries, as well as local home bakers, kicked off the evening's activities. As the auction drew to a close the friendly bidding wars heated up until the lucky winners were declared. As is the custom, winners then shared their bounty with the rest of the people at their table. Since its inception the Dessert Auction has provided a significant portion of the monies raised during the Gala.
New This Year
The game Heads or Tails will replace the Wine Wall. Volunteers will be selling "beads" for $20. Each set of beads entitles you to stay in the game until you guess wrong–Heads or Tails. Enhance your chance of being the winner of the GRAND PRIZE!
The 2020 Gala Committee
Gala Co-Ordinator: Cassandra Cook-Quarry
2020 Gala Committee Members: Kari Boldt, Chuck Budde, Casi Cross, Joyce Elsen, Suzzanne Fox, Brenna Gardner,  Ruth Hickey, Ruth Hildebrandt, Rose Leifeld-Brennan, Isabell O'Connor, Sue Rodman, Michelle Simpson, Sherri Snow, Jeanne Ullian, Brooke Vargason.
INDOOR FUN and ENTERTAINMENT
OUTDOOR FUN and ENTERTAINMENT