Thanks to our GREAT COMMUNITY of SUPPORTERS
It was a party.
It was a great outpouring of support for Ruth's House.
It took less than a minute of Fund-a-Need bidding to raise the $15,000 matching funds needed to secure our HUD Grant worth $185,000.  It will take a few weeks to tally all of the generous contributions received throughout the evening–from the Silent Auction, Live Auction, Dessert Auction, Wine Wall Raffle, and Fund-a-Need for 2019 Capitol Projects. Our sincere thanks to everyone in the community who supported this event and who support Ruth's House throughout the year.
For more information please contact Suzzanne at suzzannef.ruthshouse@gmail.com or call 507-334-5043.
Theme and Decorations
It's the HEARTS GALA! Once again the Decorating Committee will transform the American Legion in Faribault into "Party Central." Dress in your favorite comfortable party clothes (hot pink is the color this year) and plan to sit with friends at the tables seating 8-10 people.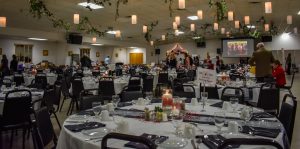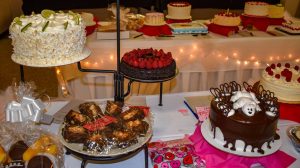 The Dessert Auction
The Wine Wall: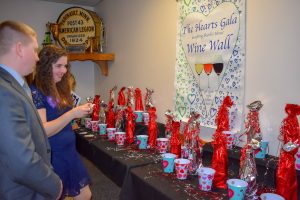 Four bottles of wine, each valued at $50, will be among the bottles of red and white wine in Wine Wall Raffle.
2019 Gala Committee
Committee Members: Joyce Elsen (chair), Christiana Adams, Elaine Anderstrom, Kari Boldt, Chuck Budde, Cassandra Cook-Quarry,  Casi Cross, Suzzanne Fox, Brenna Gardner, Marcy Goss, Matt Gustafson, Ruth Hickey, Ruth Hildebrandt, Rose Leifeld-Brennan, Isabell O'Connor, Sue Rodman, Michelle Simpson, Kathy Tonolli, Jeanne Ullian, Ruth Wirtzfeld.