SAVE THE DATE
1st Annual Helping Hearts Event
Saturday, February 13, 2021
We are going VIRTUAL!
A free event via Facebook Livestream- Helping Hearts Event
"PILLARS OF SUPPORT"
17th Annual Ruth's House Hearts Gala
Saturday, February 8, 2020
American Legion in Faribault
We had an amazing turn out for the Annual Hearts Gala for Ruth's House. Over 300 people attended, enjoyed a Greek style dinner, and came together to support our house, literally and metaphorically through our Pillars of Support!
A former child resident, who is now grown with children of her own, spoke from her heart about how Ruth's House helped her grow into the incredible woman, and mother she is today. With all your support, Ruth's House is changing lives! We see lives changed every day in the women and children we serve! Thank you!
Special Thanks to our 2020 Table Donors
A & J Storage
Boldt Funeral Home
Cate Grinney
Donahue's Greenhouse
Faribault Daily News
Faribault Noon Exchange Club
Faribault Tire & Auto
First National Bank of Northfield
Harry Brown's
Joyce and Rick Elsen
Our Savior's Lutheran Church
Patricia and John Petersen
Rent-N-Save
Ruth and Herb Hickey
Sheldahl
State Bank of Faribault
Sandy and Paul Varley
Wells Fargo
Theme and Decorations
The American Legion will be transformed into Party Central. Dress in your favorite comfortable party clothes and plan to sit with friends at the tables seating 8-10 people.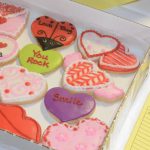 The Dessert Auction
The Dessert Auction is a signature event at the Ruth's House Gala. This artful display of tempting cakes, cookies, pies, and other sweets from local bakeries, as well as local home bakers, kicks off the evening's activities. As the auction draws to a close the friendly bidding wars heat up until the lucky winners are declared. As is the custom, winners often share their bounty with the rest of the people at their table. Since its inception the Dessert Auction has provided a significant portion of the monies raised during the Gala.
Heads or Tails
Buy Your Beads! Each set entitles you to stay in the game when you guess wrong–Heads or Tails. Enhance your chance of being the winner of the GRAND PRIZE!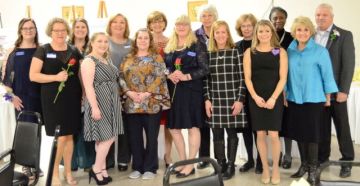 The 2020 Gala Committee
Back Row, Left to Right: Suzzanne Fox, Brooke Vargason, Cassandra Cook-Quarry: Coordinator, Joyce Elsen, Ruth Hildebrandt, Jeanne Ullian, Isabell O'Connor, Chuck Budde
Front Row, Left to Right: Rose Leifeld-Brennan, Brenna Gardner, Casi Cross, Sherri Snow, Kari Boldt, Michelle Simpson, Sue Rodman, Ruth Hickey (not pictured)