Ruth's House is grounded in faith and was founded on Christian principals. We understand and appreciate the diversity of our community, and we welcome people from all faith traditions, or none at all.
Our goals for those who come to live at Ruth's House include helping them find faith and build hope, self-respect and self-sufficiency.
We invite you to pray or meditate with us for the mission of Ruth's House and the well-being of the families we serve.
---
Virtues: The Gift of Character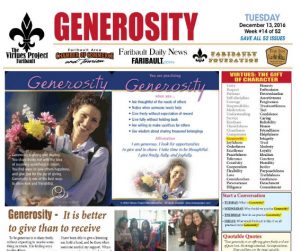 One of the many ways we support our residents' personal and spiritual growth is through the Virtues Project™.
This is a global initiative to inspire the practice of virtues in everyday life and has been adopted as a community-wide initiative in Faribault. The Virtues Project is about character development and is compatible with all faith traditions.
Each week, Ruth's House residents participate in a discussion of the Virtue of the Week. We invite you to follow along with us.
Virtue of the Week     Faribault Virtues Project on Facebook
The virtues covered in the year-long project are listed below.
Unity
Respect
Patience
Self-discipline
Courage
Responsibility
Moderation
Understanding
Service
Kindness
Thankfulness
Cleanliness
Compassion
Generosity
Joyfulness
Orderliness
Excellence
Peacefulness
Tolerance
Creativity
Cooperation
Flexibility
Love
Consideration
Perseverance
Diligence
Honesty
Enthusiasm
Determination
Assertiveness
Forgiveness
Trustworthiness
Tact
Confidence
Caring
Reliability
Honor
Friendliness
Helpfulness
Integrity
Trust
Modesty
Loyalty
Idealism
Courtesy
Humility
Justice
Purposefulness
Truthfulness
Gentleness
Detachment
Commitment
"Ruth's House has done a lot more than give me a place to live. Ruth's House offers help in many ways, support, and prayer, along with caring optimistic words of encouragement."