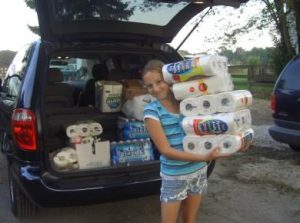 When you donate goods and supplies to Ruth's House, you help make sure our residents have the essential items they need while they are with us. With your help, Ruth's House provides the necessities for these women and families, ensuring they can focus on making a new start in life.
Ruth's House is a 501(c)3 nonprofit organization as well as a registered Minnesota charity, and your donation is 100% tax-deductible.
---
Donate Supplies, Furnishings and More
We do NOT accept clothing.
To donate cleaning supplies, basic necessities, diapers or other items, please first check our current Needs List, which we update frequently.
Needs List
Items on this list may be dropped off at our shelter in Faribault (call 507-332-2236 for directions) Donation days are Monday 1:00 – 3:00 and Thursday 4:00 – 6:00.  Please note, we are able to only accept items listed on the current needs list. Questions? Please call our donation line, at 507-323-8151 or giveruth@gmail.com
If you would like to offer other items please check our Donation Policy, which lists items we accept as well as those we cannot accept.
Ruth's House Donations Policy
Target Registry
You can find additional items on our Target Registry.
Walmart Registry
You can find additional items on our Walmart Registry.