We love our volunteers!
For the security of our residents, all volunteers who help at our facilities are required to complete a background check. To become a volunteer, please fill out our Volunteer Application Form and return it to Ruth's House staff.
Volunteer Application Form
Our volunteers make our work possible. Check out our Volunteer Spotlight to read about a person or group who has really made a difference for Ruth's House!
Volunteer Spotlight
---
Ruth's House would love to have you or your group volunteer with us. Our ability to offer help and hope is made possible by the contributions of our many volunteers, who together give about 4,000 hours each year to support our work and our residents.
Current Volunteer Opportunities
Childcare Volunteers – Come play with the kids while their moms attend weekly meetings and classes. Short shifts available Wednesday evenings, once a month on Sunday afternoons, and  Monday evenings from 6:30 p.m.-8:30 p.m.
Front Desk Receptionist – Love helping others and have availability during weekdays? We are looking for front desk receptionists to help out at the shelter answering doors and phones and logging donations.
Contractor  or Handy Person – We are looking for contractors to help with needed repairs at the shelter for a variety of projects. Know how to fix a bicycle or lay tile or install carpet? Help with lawn care or landscaping? Consider volunteering at Ruth's House.
Graphic Design – Have graphic design skills, or technical know-how? We could always use your help!
Thank you and please stay posted each week for ways you can offer support!
Ongoing Volunteer Opportunities
*Ruth's House has many opportunities for student internships, service learning groups, job-shadowing and volunteer hours.  We welcome you to contact us about an opportunity that fits your interests!
Standing Committee Volunteers: Building Committee, Fundraising Committee, and Gala Committee.
*Provide child care for residents who are working or attending classes.
*Provide transportation to help residents get to appointments.
Graphic Design or IT Support – Help with the design of our four-page newsletter, with flyers for our fundraisers, or with miscellaneous marketing materials.
Handyperson for odd jobs that we can call to help with little projects like checking bike tires, replacing faucet washers, etc.
Get Involved
For information regarding volunteer opportunities please contact Suzzanne at
suzzannef.ruthshouse@gmail.com or call 507-334-5043.
Volunteer Spotlight
Ruth Wirtzfeld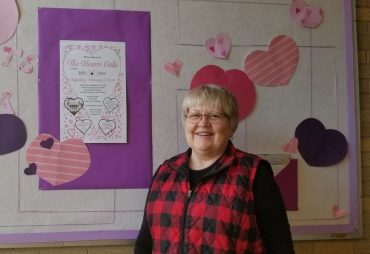 January's volunteer spotlight shines on Ruth Wirtzfeld. Ruth has been a wonderful addition to Ruth's House! She has brought her gifts of love, kindness, creativity, and servitude, which have blessed Ruth's House staff and residents tremendously! She's flexible and willing to do whatever is needed, using her talents to the very best of her ability. We are so truly grateful to have her in our family!
Ruth writes:
I moved from Fargo, ND to Northfield in the fall of 2017. Being retired, I had time on my hands and a desire to be useful, so I began exploring opportunities for volunteering. It was shortly thereafter that I met Kathy Tonolli, a board member at Ruth's House. I was curious and inspired as Kathy talked about her connection to Ruth's House and their mission.
Recognizing my interest, she invited me to take a tour of the house and from there she invited me to join her as one of the "basement babes" who sorted and organized material donations that come into the house, and so my connection began. There I met some wonderful committed women, who also gave of their time to further the cause.
Believing that any gifts we have are given for the well-being of the community and not for ourselves alone, and believing that we all need a safe, supportive community or network where we can reach our full potential, motivated me to say, "yes" to Kathy's invitation to get involved at Ruth's House. I like the ministry I see happening there. Ruth's House is a safe haven, a place of hope, and that's a cause I want to support.
Past Volunteers
Other Ways to Help
In addition to volunteering your time and talents, you can help Ruth's House in many other ways:
Donate house supplies (current list available here and published periodically in the Faribault Daily News and Northfield News).
Attend our annual Hearts Gala on February 9, 2019, and consider making a donation to the silent, live and dessert auctions.
Pray and meditate for the mission of Ruth's House and the well-being of the families we serve.
You can always make a difference with a financial contribution.